The Standard Schnauzer Club of America (SSCA) Rescue is an all volunteer, non-profit organization dedicated to the rescue and placement of purebred Standard Schnauzers. All of our dogs are cared for by breed experienced foster homes and receive temperament evaluations and medical care including: vaccinations, spaying/neutering, flea/tick/heartworm treatment, and microchipping prior to their adoption.
ADOPTING AN ADULT HAS MANY ADVANTAGES
Occasionally, the Standard Schnauzer Club of America has an adult Standard Schnauzer who needs a new home. These are excellent dogs who have lost their homes through no fault of their own. Homes can be lost through death, divorce, relocation, illness, or many other reasons. A "ready made dog" can be a wonderful choice for the first-time owner or the family that doesn't have time to train a puppy. Most of these dogs are over 5 years old and are males. There are between 12-15 dogs a year placed thru Rescue across the Nation.


These older dogs are usually housebroken, lead trained, or even obedience trained. They are usually nice about being brushed and combed. Lots of patience is required, however, for the first few weeks. The dog will feel confused and lonesome for his old family, but will quickly love his new family given a little patience.


Click here for for the Foster Agreement form.
Hi, My name is Turk. And I am adopted.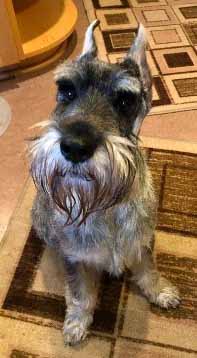 Turk is an 8 year old male neutered pepper and salt standard schnauzer. Turk is being fostered through Schnauzer Rescue of MN (SROMN) for the Standard Schnauzer Club of America (SSCA) Rescue.
Upon arrival, we learned that Turk was a little guy (28 lbs) with a BIG personality! It did not take long for Turk to open up! When he arrived, he was food reactive towards other dogs, not humans, and that seems resolved. Turk loves to chew on toys and bones! He loves to run in the yard! And most importantly, he loves to cuddle with his people!
Print the PDF version and mail it to the rescue person.
Click here for an PDF version of the SSCA rescue application.


FOR MORE INFORMATION
Please email (Acting) if you would like more information.

The first step towards getting a rescue dog is to
print a copy of the rescue application,
fill it out and mail it to . The application will be kept on file and when a dog comes into the Rescue program that is what you are looking for you would be notified. The Rescue Program does not normally ship dogs. We try to match the dog to the best owner for it. I encourage you to also contact the local SSCA rescue person in your area so they are aware you are interested in a rescue dog. These contacts are listed below.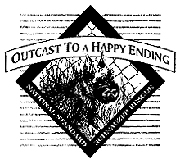 You Want To Adopt A Standard Schnauzer?

What Is Rescue?

Terms Of Adoption


THE SSCA RESCUE COMMITTEE CANNOT VOUCH FOR THE TEMPERAMENT, HEALTH, OR LINE OF THE DOG, OTHER THAN AS STATED IN OUR PAPERWORK AS THE DOG MAY HAVE BEEN IN AN UNUSUAL SITUATION AND IN MANY CASES WITHOUT HISTORY AND MAY NOT SHOW ITS TRUE NATURE OR HEALTH UNTIL FINALLY PLACED.

Click here for an PDF version of the SSCA rescue application.
Fill out the application and mail it to:
Stephanie Blanks
68 Country Trail
Macon, GA 31220