WHAT IS A STANDARD SCHNAUZER?
"The dog with the human brain". The original breed of the 3 sizes of Schnauzers, they are a handsome, head-turning, robust, squarely-built, medium size dog with aristocratic bearing. The coat is harsh, wiry and minimal shedding and is pepper and salt or solid black in color. They are sociable, alert, a comedian, a formidable guard and a family companion. Properly raised and trained, they are reliable companions with their own family children. They are usually not unnecessary barkers. They are noted for guarding the family home and displaying devotion to their immediate family.

HOW LARGE IS A STANDARD SCHNAUZER?
The Standard Schnauzer is a medium-sized dog. Males are ideally between 18-20" high at the shoulders and generally weigh about 35-50 pounds. Females are ideally between 17-19" inches high at the shoulders and generally weigh about 30-45 pounds.

IS THE STANDARD SCHNAUZER AN EFFECTIVE WATCH DOG?
As a home guardian, the Standard Schnauzer excels. Properly introduced, they readily accept close friends of the family. However, they warn away any stranger with a strong voice. Woe unto the attacker or intruder!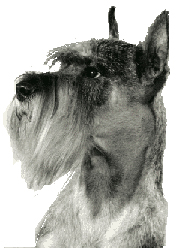 IS THE STANDARD SCHNAUZER A GOOD PET?
Yes, for the right person. The Standard Schnauzer is not the breed for those who want a placid, friendly-to-everyone dog that can be fed, walked and forgotten. The Standard Schnauzer insists on being a part of the family activities and develops to its fullest potential when treated in this manner. For this reason, most Standards, even the top show winners, are house pets. Raised and trained properly, they are very good with their own family children and most others who respect their high sense of self-dignity. They are not a dog that readily accepts any form of teasing, especially from children. Their memory for people and events is akin to the proverbial "memory of an elephant".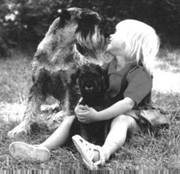 IS THE STANDARD SCHNAUZER TRAINABLE?
Due to their intelligence, they do learn quickly and will retain most everything they learn, including unintended lessons. The Standard Schnauzer needs direction that is consistent and firm (but not rough). They have a tendency to push the envelope, try to get away with whatever they can and will rule the house if allowed. As an all-around performance event dog, it is hard to beat the Standard Schnauzer, as they can excel in obedience, agility and herding, infusing both enthusiasm and intelligence in the execution of their "tasks". However, because they can be a comedian, there are occasions when they can be quite creative in the way they perform.
WHAT ABOUT GROOMING?
Every dog, no matter what the breed, needs some basic maintenance: nails clipped, ears cleaned, coat brushed. The Standard Schnauzer, however, requires even more grooming, as do all wire-coated breeds. Beard and leg hair must be combed and brushed often enough to prevent the formation of mats. Generally, a Standard Schnauzer's coat must be hand-stripped at 4 to 6 month intervals. Hand stripping (or plucking) is absolutely necessary if you plan to show your dog or like the look and feel of the proper coat. House pets can be machine-clippered by a local groomer. This is a simpler process of maintaining the look of the Schnauzer, however, over time the texture of the coat will soften. A properly groomed and maintained wire-coated dog like the Standard Schnauzer sheds minimally. The Standard Schnauzer Club of America has a grooming guide available which gives guidelines on how to maintain both the hand-stripped and the machine-clippered coat.
WHERE SHOULD I BUY A STANDARD SCHNAUZER?
From a reputable breeder. This breed is not always easy to find, as they are not bred in great numbers. To obtain a puppy, you should go directly to a breeder who is a member of a regional Standard Schnauzer Club or a member of the Standard Schnauzer Club of America. The SSCA maintains a breeder referral list comprised of SSCA breeders who have signed a Code of Ethics. As a rule, Standard Schnauzer breeders do not breed merely to produce puppies, but have a breeding plan based on a certain lineage which they hope will improve the breed as a whole. Buying directly from a breeder is not just a business transaction. The worst place to buy any puppy is a pet shop.
DOES THE STANDARD SCHNAUZER HAVE HEALTH-RELATED PROBLEMS?
Standard Schnauzers are above-average as compared with most other breeds when it comes to health issues. They live an average of 13 to 16 extremely active years. Most Standard Schnauzer owners find that only an annual visit to their veterinarian for a check-up and routine shots is required.

Occasionally, problems that occur in other breeds will crop up in the Standard Schnauzer. Some of these problems pose severe health problems to the dogs and big heartaches to their breeders and owners. The SSCA has formed a health committee to try to insure that no disease or problem that is possibly genetic in nature ever becomes a widespread problem in this otherwise very healthy breed. It was only through the efforts of concerned breeders many years ago that the problem of hip dysplasia has been sharply reduced in the United States. The SSCA continues to recommend that all breeding stock owned by members be radio-graphed free of hip dysplasia.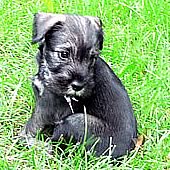 DOES THE STANDARD SCHNAUZER HAVE HEALTH-RELATED PROBLEMS?
Although eye problems rarely show up in the Standard Schnauzer, the SSCA also recommends that breeding stock be tested annually.

The majority of Standard Schnauzer breeders are working together to keep the breed as free of genetic problems as possible. We currently enjoy saying, and wish to continue to be able to say, that the major problem leading to cause of death in this breed is just plain old age.